[Book Review] Holding Up the Universe – Jennifer Niven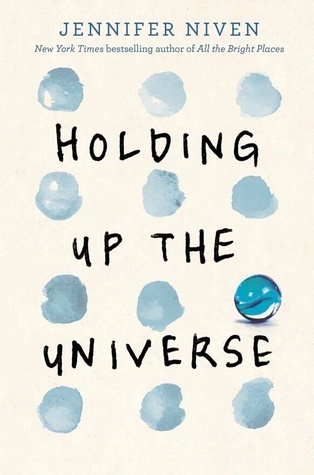 Title: Holding Up the Universe
Author: Jennifer Niven
Genre: YA Fiction
Published: 2016
My Rating: ★★★★★
The sudden death of her mother caused Libby Strout to overeat to the point where she could no longer move and had to be cut out of her house. Now she's lost half the weight and is returning to school for her junior year. Despite the bullies, she plans on having a normal high school experience by joining the dance team and sexing off the rest of her weight.
Jack is the school's king, but he has a secret. He cannot recognize faces, not even his own family's. Everyone is a stranger to him. To keep himself from being hurt, he acts aloof and doesn't let anyone get too close.
When he plays a cruel prank on Libby (and she bloodies his nose), the two are forced into detention together. A budding relationship ensues.
---
This was freaking adorable. I love Libby. I love Jack. I love Libby and Jack together. They're both funny and flawed and full of personality. I especially loved Jack's ten-year-old brother, who is wise beyond his years. He also suffers from bullying because he's black and most certainly gay. I so badly want to see a sequel starring this kid as a teenager.
Overweight people tend to be seen as less than human in this country, and it amazes me how much one person can hate another for their appearance alone. After being cut out of her house, Libby is sent hate mail. They call her a fat whore and shame her for eating so much while others starve. Yet Libby doesn't let that stop her. We can all learn from her optimism and confidence. I mean, I could never walk the school's hallways in a purple bikini, and I'm a good two hundred pounds lighter than her.
This book learned me a few things. First of all, I had no idea that prosopagnosia (face-blindness) existed. It's frightfully fascinating, but also, I imagine, terrifying. In Jack's case, nobody has a clue. Not even his family or closest friends. He has to search for identifiers to recognize people. Hair color, skin color, voice. If he gets people mixed up, it leads to bad things, like making out with his girlfriend's cousin. Brad Pitt also suffers from face-blindness. That must be why we're not together. He just can't keep track of me (Kidding! I never had a crush on Pitt. He's, like, old and I don't want anyone's leftovers).
Also, did you know a group of pandas is called an "embarrassment"? Next time my family calls me an embarrassment, I will take it as a compliment. Why yes, thank you, I am cute, cuddly, and furry.
Holding Up the Universe reminds me of Eleanor and Park. It's sweet, funny and heartbreaking. It may not be set during the rad '80s, but it's in a similar vein of fiction. I haven't read Niven's acclaimed All the Bright Places, but you can bet it will be arriving on my doorstep soon.
Suggested reading: We Have Always Lived in the Castle by Shirley Jackson. Because it's Libby's all-time favorite novel, it's referenced often. I unfortunately haven't read it, so the references went over my head.