Pirates! – Celia Rees
Nancy Kington, daughter of a rich merchant, suddenly orphaned when her father dies, is sent to live on her family's plantation in Jamaica. Disgusted by the treatment of the slaves and her brother's willingness to marry her off, she and one of the slaves, Minerva, run away and join a band of pirates.
For both girls the pirate life is their only chance for freedom in a society where both are treated like property, rather than individuals. Together they go in search of adventure, love, and a new life that breaks all restrictions of gender, race, and position. Told through Nancy's writings, their adventures will appeal to readers across the spectrum and around the world.
KEEP – I like Rees's work.
The Will of the Empress – Tamora Pierce
Sandry, Daja, Briar, and Tris, are older now and back together again, in an exciting and much-awaited, stand-alone novel by everyone's favorite mage, Tamora Pierce.
For years the Empress of Namorn has pressed her young cousin, Lady Sandrilene fa Toren, to visit her vast lands within the Empire's borders. Sandry has avoided the invitation for as long as it was possible. Now Sandry has agreed to pay that overdue visit. Sandry's uncle promises guards to accompany her. But they're hardly a group of warriors! They're her old friends from Winding Circle: Daja, Tris, and Briar. Sandry hardly knows them now. They've grown up and grown apart. Sandry isn't sure they'll ever find their old connection again – or if she even wants them to.
AX – I'm a huge Pierce fan, but I tried and failed to get into the Winding Circle. I actually gave the first three books away to a Little Free Library. I could probably just read this stand-alone, but I feel it wouldn't be as good without the context.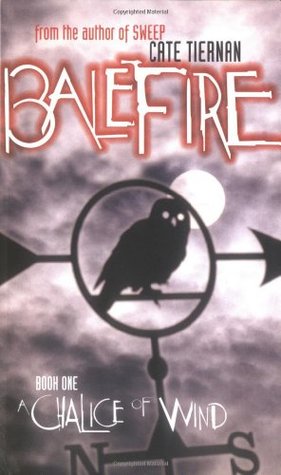 A Chalice of Wind – Cate Tiernan
Separated since birth, 17-year-old twins Thais and Clio unexpectedly meet in New Orleans where they seem to be pursued by a coven of witches who want to harness the twins' magical powers for its own ends.
AX – Description doesn't do it for me.
Carnival of Souls – Melissa Marr
In a city of daimons, rigid class lines separate the powerful from the power-hungry. And at the heart of The City is the carnival, where both murder and pleasure are offered up for sale. Once in a generation, the carnival hosts a deadly competition that allows every daimon a chance to join the ruling elite. Without the competition, Aya and Kaleb would both face bleak futures—if for different reasons. For each of them, fighting to the death is the only way to try to live.
All Mallory knows of The City is that her father—and every other witch there—fled it for a life in exile in the human world. Instead of a typical teenage life full of friends and maybe even a little romance, Mallory scans quiet streets for threats, hides herself away, and trains to be lethal. She knows it's only a matter of time until a daimon finds her and her father, so she readies herself for the inevitable.While Mallory possesses little knowledge of The City, every inhabitant of The City knows of her. There are plans for Mallory, and soon she, too, will be drawn into the decadence and danger that is the carnival.
From Melissa Marr, bestselling author of the Wicked Lovely series and Graveminder, comes a brand-new tale of lush secrets, dark love, and the struggle to forge one's own destiny.
AX – If I like Marr's Wicked Lovely series, I'll consider reading this.
Assassin's Apprentice – Robin Hobb
In a faraway land where members of the royal family are named for the virtues they embody, one young boy will become a walking enigma.
Born on the wrong side of the sheets, Fitz, son of Chivalry Farseer, is a royal bastard, cast out into the world, friendless and lonely. Only his magical link with animals – the old art known as the Wit – gives him solace and companionship. But the Wit, if used too often, is a perilous magic, and one abhorred by the nobility.
So when Fitz is finally adopted into the royal household, he must give up his old ways and embrace a new life of weaponry, scribing, courtly manners; and how to kill a man secretly, as he trains to become a royal assassin.
KEEP – Right on.
The Godfather – Mario Puzo
Almost fifty years ago, a classic was born. A searing portrayal of the Mafia underworld, The Godfather introduced readers to the first family of American crime fiction, the Corleones, and their powerful legacy of tradition, blood, and honor. The seduction of power, the pitfalls of greed, and the allegiance to family—these are the themes that have resonated with millions of readers around the world and made The Godfather the definitive novel of the violent subculture that, steeped in intrigue and controversy, remains indelibly etched in our collective consciousness.
KEEP – Capeesh?
Neverwhere – Neil Gaiman
Under the streets of London there's a place most people could never even dream of. A city of monsters and saints, murderers and angels, knights in armour and pale girls in black velvet. This is the city of the people who have fallen between the cracks.
Richard Mayhew, a young businessman, is going to find out more than enough about this other London. A single act of kindness catapults him out of his workday existence and into a world that is at once eerily familiar and utterly bizarre. And a strange destiny awaits him down here, beneath his native city: Neverwhere.
KEEP – I like Gaiman's work. I just don't love it. Maybe this one? Please this one.
The Last Unicorn – Peter S. Beagle
She was magical, beautiful beyond belief — and completely alone…
The unicorn had lived since before memory in a forest where death could touch nothing. Maidens who caught a glimpse of her glory were blessed by enchantment they would never forget. But outside her wondrous realm, dark whispers and rumours carried a message she could not ignore: "Unicorns are gone from the world."
Aided by a bumbling magician and an indomitable spinster, she set out to learn the truth. but she feared even her immortal wisdom meant nothing in a world where a mad king's curse and terror incarnate lived only to stalk the last unicorn to her doom…
KEEP – It's a classic, isn't it?
The Color of Magic – Terry Pratchett
On a world supported on the back of a giant turtle (sex unknown), a gleeful, explosive, wickedly eccentric expedition sets out. There's an avaricious but inept wizard, a naive tourist whose luggage moves on hundreds of dear little legs, dragons who only exist if you believe in them, and of course THE EDGE of the planet…
KEEP – It's a classic, isn't it?
The Way of Kings – Brandon Sanderson
Roshar is a world of stone swept by tempests that shape ecology and civilization. Animals and plants retract; cities are built in shelter. In centuries since ten orders of Knights fell, their Shardblade swords and Shardplate armor still transform men into near-invincible warriors. Wars are fought for them, and won by them.
In one such war on the ruined Shattered Plains, slave Kaladin struggles to save his men and fathom leaders who deem them expendable, in senseless wars where ten armies fight separately against one foe.
Brightlord Dalinar Kholin commands one of those other armies. Fascinated by the ancient text namedThe Way of Kings and troubled by visions of ancient times, he doubts his sanity.
Across the ocean, Shallan trains under eminent scholar and notorious heretic, Dalinar's niece Jasnah. Though Shallan genuinely loves learning, she plans a daring theft. Her research hints at secrets of the Knights Radiant and the true cause of the war.
AX – I do want to read this, but since I have four books of Sanderson's sitting on my shelves, none of which I have read, I'm going to drop this one.