I continue with this seemingly fruitless task of narrowing down my TBR pile. And yet, I find the process oddly soothing. It also brings much needed attention to backlisted titles.
The Squire's Tale – Gerald Morris
Life for the young orphan Terence has been peaceful, living with Trevisant, the old Hermit in a quiet, isolated wood.
That is, until the day a strange green sprite leads him to Gawain, King Arthur's nephew, who is on his way to Camelot hoping to be knighted. Trevisant can see the future and knows that Terence must leave to serve as Gawain's squire. From that moment on, Terence's life is filled with heart-stopping adventure as he helps damsels-in-distress, fights battles with devious men, and protects King Arthur from his many enemies.
Along the way, Terence is amazed at his skills and new-found magical abilities. Were these a gift from his unknown parents? As Gawain continues his quest for knighthood, Terence searches for answers to the riddles in his own past.
KEEP – I love anything Arthurian.
The Dragon's Eye – Kaza Kingsley
Life is not easy for twelve-year-old Erec Rex. His single mother can barely support her six adopted kids. And they've moved into an apartment so tiny that Erec sleeps with the washing machine. Worse, there is a strange force within Erec that is making him do odd things. His urge to obey these thoughts grows — until it becomes impossible to resist them.
Then one morning, Erec's mother is missing. The force inside Erec commands him to find her, leading him on an adventure that will change him forever. When he arrives in Alypium, a hidden world where old knowledge of magic is kept, Erec learns that his mother and the entire kingdom are in peril. And he might be the only one who can save them.
AX – Description doesn't draw me in.
Skulduggery Pleasant – Derek Landy
Meet Skulduggery Pleasant. Sure, he may lose his head now and again (in fact, he won his current skull in a poker match), but he is much more than he appears to be—which is good, considering that he is, basically, a skeleton. Skulduggery may be long dead, but he is also a mage who dodged the grave so that he could save the world from an ancient evil. But to defeat it, he'll need the help of a new partner: a not so innocent twelve-year-old girl named Stephanie. That's right, they're the heroes.
Stephanie and Skulduggery are quickly caught up in a battle to stop evil forces from acquiring her recently deceased uncle's most prized possession—the Sceptre of the Ancients. The Ancients were the good guys, an extinct race of uber-magicians from the early days of the earth, and the scepter is their most dangerous weapon, one capable of killing anyone and destroying anything. Back in the day, they used it to banish the bad guys, the evil Faceless Ones. Unfortunately, in the way of bad guys everywhere, the Faceless Ones are staging a comeback and no one besides our two heroes believes in the Faceless Ones, or even that the Sceptre is real.
So Stephanie and Skulduggery set off to find the Sceptre, fend off the minions of the bad guys, beat down vampires and the undead, prove the existence of the Ancients and the Faceless Ones, all while trading snappy, snippy banter worthy of the best screwball comedies.
KEEP – Sounds quirky.
The Fairy-Tale Detectives – Michael Buckley
For Sabrina and Daphne Grimm, life has not been a fairy tale. After the mysterious disappearance of their parents, the sisters are sent to live with their grandmother–a woman they believed was dead! Granny Relda reveals that the girls have two famous ancestors, the Brothers Grimm, whose classic book of fairy tales is actually a collection of case files of magical mischief. Now the girls must take on the family responsibility of being fairy tale detectives.
KEEP – I am a sucker for anything Brothers Grimm.
The Land of the Silver Apples – Nancy Farmer
Jack is amazed to have caused an earthquake. He is thirteen, after all, and only a bard-in-training. But his sister, Lucy, has been stolen by the Lady of the Lake; stolen a second time in her young life, as he learns to his terror. Caught between belief in the old gods and Christianity (790 AD, Britain), Jack calls upon his ash wood staff to subdue a passel of unruly monks, and, for his daring, ends up in a knucker hole. It is unforgettable — for the boy and for readers — as are the magical reappearance of the berserker Thorgil from a burial by moss; new characters Pega, a slave girl from Jack's village, and the eager-to-marry-her Bugaboo (a hobgoblin king); kelpies; yarthkins; and elves (not the enchanted sprites one would expect but the fallen angels of legend). Rarely does a sequel enlarge so brilliantly the world of the first story. Look for the conclusion in The Islands of the Blessed in 2009.
KEEP – I loved the first book even if I don't remember it all that well.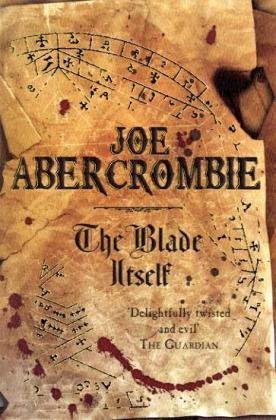 The Blade Itself – Joe Abercrombie
Logen Ninefingers, infamous barbarian, has finally run out of luck. Caught in one feud too many, he's on the verge of becoming a dead barbarian – leaving nothing behind him but bad songs, dead friends, and a lot of happy enemies.
Nobleman Captain Jezal dan Luthar, dashing officer, and paragon of selfishness, has nothing more dangerous in mind than fleecing his friends at cards and dreaming of glory in the fencing circle. But war is brewing, and on the battlefields of the frozen North they fight by altogether bloodier rules.
Inquisitor Glokta, cripple turned torturer, would like nothing better than to see Jezal come home in a box. But then Glokta hates everyone: cutting treason out of the Union one confession at a time leaves little room for friendship. His latest trail of corpses may lead him right to the rotten heart of government, if he can stay alive long enough to follow it.
Enter the wizard, Bayaz. A bald old man with a terrible temper and a pathetic assistant, he could be the First of the Magi, he could be a spectacular fraud, but whatever he is, he's about to make the lives of Logen, Jezal, and Glokta a whole lot more difficult.
Murderous conspiracies rise to the surface, old scores are ready to be settled, and the line between hero and villain is sharp enough to draw blood.
AX – I'm going to read Abercrombie's Half a King first. If I like that, then I'll add this.
Over Sea, Under Stone – Susan Cooper
On holiday in Cornwall, the three Drew children discover an ancient map in the attic of the house that they are staying in. They know immediately that it is special. It is even more than that — the key to finding a grail, a source of power to fight the forces of evil known as the Dark. And in searching for it themselves, the Drews put their very lives in peril. This is the first volume of Susan Cooper's brilliant and absorbing fantasy sequence known as The Dark Is Rising.
KEEP – I WILL ONE DAY READ THIS BOOK. I've only owned it for YEARS.
H.I.V.E. Higher Institute of Villainous Education – Mark Walden
Otto Malpense may only be thirteen years old, but so far he has managed to run the orphanage where he lives, and he has come up with a plan clever enough to trick the most powerful man in the country. He is the perfect candidate to become the world's next supervillain.
That is why he ends up at H.I.V.E., handpicked to become a member of the incoming class. The students have been kidnapped and brought to a secluded island inside a seemingly active volcano, where the school has resided for decades. All the kids are elite; they are the most athletic, the most technically advanced, and the smartest in the country. Inside the cavernous marble rooms, floodlit hangars, and steel doors, the students are enrolled in Villainy Studies and Stealth and Evasion 101. But what Otto soon comes to realize is that this is a six-year program, and leaving is not an option.
With the help of his new friends: an athletic martial-arts expert; a world-famous, beautiful diamond thief; and a spunky computer genius — the only other people who seem to want to leave — can Otto achieve what has never been done before and break out of H.I.V.E.?
KEEP – I love evil characters and books where kids go off to school.
Lord Loss – Darren Shan
Grubbs Grady has stiff red hair and is a little big for his age, which means he can get into R-rated movies. He hates history and loves bacon, rats, and playing tricks on his squeamish older sister. When he opts out of a family weekend trip, he never guesses that he is about to take a terrifying journey into darkness. Hungry demons and howling werewolves haunt his waking nightmares… and threaten his life.
KEEP – I didn't like Darren Shan's Cirque du Freak series. I read the first book twice. Didn't like it. Watched the movie. Didn't like it. But I'll give this a shot because someone recommended it to me on twitter, and Shan liked the tweet.
Crown Duel – Sherwood Smith
A deathbed promise to their father sends a daring girl and her brother off to war. Filled with intrigue, romance, and magic, this spellbinding novel is a dramatic coming-of-age story about a girl who rises from impoverished beginnings to take command of her own fate.
KEEP – Yeah, sure. Why not?