Just going to dive right in.
Fire in the East – Harry Sidebottom
The year is AD 255 – the Roman Imperium is stretched to breaking point, its authority and might challenged along every border. The greatest threat lies in Persia to the east, where the massing forces of the Sassanid Empire loom with fiery menace. There the isolated Roman citadel of Arete awaits inevitable invasion.
One man is sent to marshal the defences and shore up crumbling walls. A man whose name itself means war: a man called Ballista. Alone, Ballista is called to muster the forces, and the courage to stand first and to stand hard, against the greatest enemy ever to confront the Imperium.
This is part one of WARRIOR OF ROME: an epic of empire, of heroes, of treachery, of courage, and most of all, a story of brutal, bloody warfare.
AX – I read that it starts slow.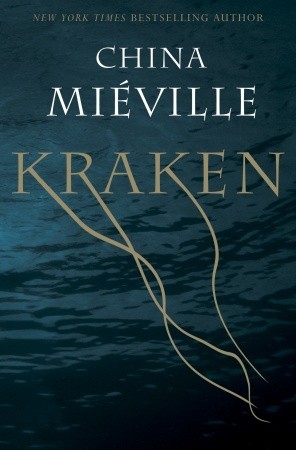 Kraken – China Mieville
In the Darwin Centre at London's Natural History Museum, Billy Harrow, a cephalopod specialist, is conducting a tour whose climax is meant to be the Centre's prize specimen of a rare Architeuthis dux—better known as the Giant Squid. But Billy's tour takes an unexpected turn when the squid suddenly and impossibly vanishes into thin air.
As Billy soon discovers, this is the precipitating act in a struggle to the death between mysterious but powerful forces in a London whose existence he has been blissfully ignorant of until now, a city whose denizens—human and otherwise—are adept in magic and murder.
There is the Congregation of God Kraken, a sect of squid worshippers whose roots go back to the dawn of humanity—and beyond. There is the criminal mastermind known as the Tattoo, a merciless maniac inked onto the flesh of a hapless victim. There is the FSRC—the Fundamentalist and Sect-Related Crime Unit—a branch of London's finest that fights sorcery with sorcery. There is Wati, a spirit from ancient Egypt who leads a ragtag union of magical familiars. There are the Londonmancers, who read the future in the city's entrails. There is Grisamentum, London's greatest wizard, whose shadow lingers long after his death. And then there is Goss and Subby, an ageless old man and a cretinous boy who, together, constitute a terrifying—yet darkly charismatic—demonic duo.
All of them—and others—are in pursuit of Billy, who inadvertently holds the key to the missing squid, an embryonic god whose powers, properly harnessed, can destroy all that is, was, and ever shall be.
KEEP – I haven't read any Mieville yet.
No Shame, No Fear – Ann Turnbull
A young Quaker girl and the son of a wealthy merchant face intolerance and persecution in this gripping historical novel that evokes the passion and idealism of young love.
"Don't cry. We won't be parted. I promise."
It is 1662, and England is reeling from the aftereffects of civil war, with its clashes of faith and culture. Susanna, a young Quaker girl, leaves her family to become a servant in town. Seventeen-year-old Will returns home after completing his studies to begin an apprenticeship arranged by his wealthy father. Susanna and Will meet and fall in love, but can their bond survive — no matter what? Theirs is a story that speaks across the centuries, telling of love and the fight to stay true to what is most important, in spite of parents, society, and even the law.
KEEP – Moar historical fiction.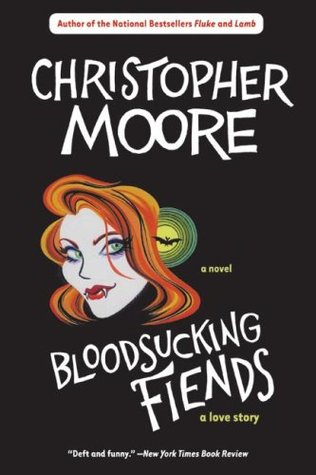 Bloodsucking Fiends – Christopher Moore
Jody never asked to become a vampire. But when she wakes up under an alley Dumpster with a badly burned arm, an aching neck, superhuman strength, and a distinctly Nosferatuan thirst, she realizes the decision has been made for her.
Making the transition from the nine-to-five grind to an eternity of nocturnal prowlings is going to take some doing, however, and that's where C. Thomas Flood fits in. A would-be Kerouac from Incontinence, Indiana, Tommy (to his friends) is biding his time night-clerking and frozen-turkey bowling in a San Francisco Safeway. But all that changes when a beautiful undead redhead walks through the door … and proceeds to rock Tommy's life — and afterlife — in ways he never imagined possible.
AX – I haven't read any of Moore's work. If I like the other work I'm keeping of his, then I can always add this again to the list.
Lamb: The Gospel According to Biff, Christ's Childhood Pal – Christopher Moore
The birth of Jesus has been well chronicled, as have his glorious teachings, acts, and divine sacrifice after his thirtieth birthday. But no one knows about the early life of the Son of God, the missing years — except Biff, the Messiah's best bud, who has been resurrected to tell the story in the divinely hilarious yet heartfelt work "reminiscent of Vonnegut and Douglas Adams"-Philadelphia Inquirer.
Verily, the story Biff has to tell is a miraculous one, filled with remarkable journeys, magic, healings, kung fu, corpse reanimations, demons, and hot babes. Even the considerable wiles and devotion of the Savior's pal may not be enough to divert Joshua from his tragic destiny. But there's no one who loves Josh more – except maybe "Maggie," Mary of Magdala – and Biff isn't about to let his extraordinary pal suffer and ascend without a fight.
AX – I'd have to read the bible to understand and I'm not in the mood to do that.
The Stupidest Angel: A Heartwarming Tale of Christmas Terror – Christopher Moore
'Twas the night (okay, more like the week) before Christmas, and all through the tiny community of Pine Cove, California, people are busy buying, wrapping, packing, and generally getting into the holiday spirit.
But not everybody is feeling the joy. Little Joshua Barker is in desperate need of a holiday miracle. No, he's not on his deathbed; no, his dog hasn't run away from home. But Josh is sure that he saw Santa take a shovel to the head, and now the seven-year-old has only one prayer: Please, Santa, come back from the dead.
But hold on! There's an angel waiting in the wings. (Wings, get it?) It's none other than the Archangel Raziel come to Earth seeking a small child with a wish that needs granting. Unfortunately, our angel's not sporting the brightest halo in the bunch, and before you can say "Kris Kringle," he's botched his sacred mission and sent the residents of Pine Cove headlong into Christmas chaos, culminating in the most hilarious and horrifying holiday party the town has ever seen.
KEEP – I'll read it around Christmas time.
Years of Wonder – Geraldine Brooks
When an infected bolt of cloth carries plague from London to an isolated village, a housemaid named Anna Frith emerges as an unlikely heroine and healer. Through Anna's eyes we follow the story of the fateful year of 1666, as she and her fellow villagers confront the spread of disease and superstition. As death reaches into every household and villagers turn from prayers to murderous witch-hunting, Anna must find the strength to confront the disintegration of her community and the lure of illicit love. As she struggles to survive and grow, a year of catastrophe becomes instead annus mirabilis, a "year of wonders."
Inspired by the true story of Eyam, a village in the rugged hill country of England, Year of Wonders is a richly detailed evocation of a singular moment in history. Written with stunning emotional intelligence and introducing "an inspiring heroine" (The Wall Street Journal), Brooks blends love and learning, loss and renewal into a spellbinding and unforgettable read.
KEEP – A plague o' both your houses!
Heart-Shaped Box – Joe Hill
Aging, self-absorbed rock star Judas Coyne has a thing for the macabre — his collection includes sketches from infamous serial killer John Wayne Gacy, a trepanned skull from the 16th century, a used hangman's noose, Aleister Crowley's childhood chessboard, etc. — so when his assistant tells him about a ghost for sale on an online auction site, he immediately puts in a bid and purchases it.
The black, heart-shaped box that Coyne receives in the mail not only contains the suit of a dead man but also his vengeance-obsessed spirit. The ghost, it turns out, is the stepfather of a young groupie who committed suicide after the 54-year-old Coyne callously used her up and threw her away. Now, determined to kill Coyne and anyone who aids him, the merciless ghost of Craddock McDermott begins his assault on the rocker's sanity.
AX – Rock stars don't interest me. Middle-aged men don't interest me.
The Cleric Quintet – R.A. Salvatore
R.A. Salvatore's Cleric Quintet tells the story of the scholar-priest Cadderly, plucked from the halls of the Edificant Library to fulfill a heroic quest: to stop the chaos curse unleashed upon Faerun.
This one-volume collection includes all five of the original Cleric Quintet novels–Canticle, In Sylvan Shadows, Night Masks, The Fallen Fortress, and The Chaos Curse–complete and unabridged, with an introduction by the author. The Cleric Quintet is the prequel to R.A. Salvatore's best-selling novel, The Ghost King.
KEEP – I love all things Forgotten Realms. I'll probably never get to this because I can't seem to catch up on Drizzt's series. He keeps writing them so damn fast!
Dune to Death – Mary Daheim
Bed-and-breakfast hostess Judith McMonigle and her policeman beau Joe Flynn have finally gotten hitched—and they're off on a sunny honeymoon to beautiful Buccaneer Beach. But an unfortunate confrontation with a dune buggy run amok puts hubby Joe in hospital traction—leaving his beleaguered blushing bride stranded in paradise with a bad case of ennui by the sea. Luckily irrepressible cousin Renie has selflessly agreed to keep Judith company. And when the landlady of their cozy, costly cottage by the shore turns up dead in their living room, the cousins suddenly have a murderous mystery to keep them afloat. Rumors of a fortune in buried pirate gold add spice to their adventure. But digging up both a treasure and a killer is dirty business—and Judith and Renie might end up digging their own graves.
KEEP – I picked up one of the books in this series in high school during those sessions where they forced you to read. I liked it enough to go back and start from the beginning. It's just one of those fun mysteries.
Got rid of 4/10 – Down to 909!