Down the TBR Hole: Week Two
Last week I joined in a meme called "Down the TBR Hole" which was originally started on the blog Lost In A Story. I'm trying to trim down my 900+ TBR pile on Goodreads and managed to get rid of 4 out of 10 books, which means there are 4 less books in the world that I feel obligated to read (the struggle is real).
How to participate:
Go to your Goodreads to-read shelf
Order by ascending date added
Take the first 5 (or 10 if you're feeling adventurous) books
Read the synopses of the books
Decide: keep it or let it go?
Let's begin!
Small Steps – Louis Sachar 
Two years after Camp Green Lake, Armpit is home in Austin. With a record, everyone expects the worst except disabled neighbor Ginny 10. They take small steps on the right path until Camp pal X-Ray has a get-rich-quick idea. Teen pop sensation Kaira DeLeon spins his life out of control. Doing the right thing is never a wrong choice, but a small step in the right direction.
KEEP – I first read Holes in third grade and instantly fell in love with it. I'm just really hesitant to read the sequel. What if it's not as good? What if it taints my view on the first one? What if it ruins my childhood?!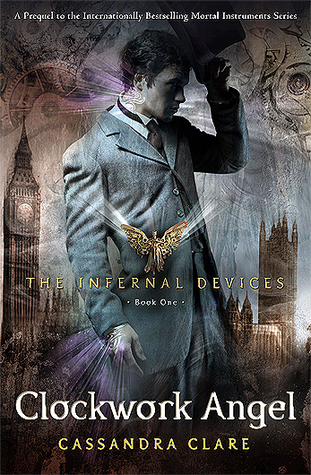 Clockwork Angel – Cassandra Clare
In a time when Shadowhunters are barely winning the fight against the forces of darkness, one battle will change the course of history forever. Welcome to the Infernal Devices trilogy, a stunning and dangerous prequel to the New York Timesbestselling Mortal Instruments series.
The year is 1878. Tessa Gray descends into London's dark supernatural underworld in search of her missing brother. She soon discovers that her only allies are the demon-slaying Shadowhunters—including Will and Jem, the mysterious boys she is attracted to. Soon they find themselves up against the Pandemonium Club, a secret organization of vampires, demons, warlocks, and humans. Equipped with a magical army of unstoppable clockwork creatures, the Club is out to rule the British Empire, and only Tessa and her allies can stop them…
AX – I read City of Bones years ago and thought it was (don't kill me, fangirls) only okay. One day I'll try to delve back into the series, but I can't read this until I do that.
A Stranger at Green Knowe – L. M. Boston
L. M. Boston's thrilling and chilling tales of Green Knowe, a haunted manor deep in an overgrown garden in the English countryside, have been entertaining readers for half a century. Now the children of Green Knowe–both alive and ghostly–are back in appealing new editions. 
KEEP – I loved the first in the series, The Children of Green Knowe. Every time I think about it, it gives me this warm, nostalgic feeling even though all I remember is that there are creepy ghost children.
SilverFin – Charlie Higson
Before the name became a legend. Before the boy became the man. Meet Bond. James Bond.
Something is in the water at Loch Silverfin. Something deadly. Something secret.
On his first day at Eton, James already meets his first enemy. In remote Loch Silverfin, a terrifying discovery threatens to unleash a new breed of warfare.
AX – My only experience with James Bond is Goldeneye on the N64 (I mastered the frigate level). There's only room for one teenage spy in my heart and that is Alex Rider.
The Akhenaten Adventure – P.B. Kerr
Meet John and Philippa Gaunt, twelve-year-old twins who one day discover themselves to be descended from a long line of djinn. All of a sudden, they have the power to grant wishes, travel to extraordinary places, and make people and objects disappear. Luckily, the twins are introduced to their eccentric djinn-uncle Nimrod, who will teach them how to harness their newly found power. And not a moment too soon . . . since John and Philippa are about to embark on a search to locate a monstrous pharaoh named Akhenaten and his eerie tomb.
AX – Unfortunately I'm being very selective with the MG I'm reading these days.
The Seventh Tower – Garth Nix
Tal has lived his whole life in darkness. He has never left his home, a mysterious castle of seven towers. He does not see the threat that will tear apart his family and his world. But Tal cannot stay safe forever. When danger strikes, he must desperately climb the Red Tower to steal a Sunstone. He reaches the top…
…and then he falls into a strange and unknown world of warriors, ice ships, and hidden magic. There Tal makes an enemy who will save his life and holds the key to his future.
KEEP – Despite trying and failing to get into his other books, including Mr. Monday and Sabriel, I will give this a shot since I've heard such good things about it.
Knight's Castle – Edward Eager
When the ancient toy soldier comes alive, the Old One grants Roger's wish to adventure in "yeomanly" Sherwood Forest. Will Roger earn his second wish, to save his father? Need for an operation brings Roger 11 and younger Ann to stay with bossy cousin Eliza and Jack. Can the children convince Ivanhoe to marry Rebecca over Rowena, and conquer the castle – in pjs?
KEEP – I loved Half Magic and didn't realize it was actually a series until recently.
The Liberation of Sundrian City – Ander Louis 
If ignorance were bliss, would you seek truth?
In a sheltered city that has locked itself away from the dangers of the outside world, a band of underground rebels, driven by this very question, plan to uncover the truth beyond their impenetrable wall.
Meanwhile, as he struggles to bring his own life together by solving the mysterious murder of his parents, thirteen-year-old Linus Smith will come to learn – the hard way – that he is a gifted war elephant rider, and find himself in the most unlikely place – at the crux of a liberation.
The Liberation of Sundrian City is the explosive new adventure novel by Ander Louis.
Join the Liberation!
AX – No, I don't want to join the Liberation!
Anansi Boys – Neil Gaiman 
God is dead. Meet the kids.
Fat Charlie Nancy's normal life ended the moment his father dropped dead on a Florida karaoke stage. Charlie didn't know his dad was a god. And he never knew he had a brother. Now brother Spider is on his doorstep—about to make Fat Charlie's life more interesting . . . and a lot more dangerous.
KEEP – I'm still on a quest to find a Gaiman novel that I love. Or even just like.
Goddess of the Night – Lynne Ewing
Vanessa, who has always had the special power to become invisible, discovers that she and her best friend Catty, a time-traveler, are goddesses of the moon who must fight together to overcome the evil Atrox.
KEEP – My friend was way into this series in middle school. I still need to know what all the hullabaloo is about.
Got rid of 4/10 again. Not bad!
Have you read any of these?