The Golem and the Jinni – Helene Wecker
The Golem is created to be an obedient wife. When her master dies, she must find her own way as a Jewish immigrant in 19th century New York. Meanwhile, in Little Syria, the Jinni is released from a flask after 1,000 years and must find a way to free himself from his human form. 
I quite liked this book. It wasn't a fast-paced read, but it had me turning the page to learn more. Wecker did a great job weaving the different stories together, and there's something to be learned from the two main characters–the Golem, who tries so hard to learn and conform to society, and the Jinni, who doesn't give a damn what humans think.
I would recommend this to anyone interested in Jewish and Arabian folklore. Or anyone who's looking for the same magical quality as in The Night Circus. 
---
Unravel Me (Shatter Me #2)– Tahereh Mafi
War with The Reestablishment approaches and Juliette struggles to find her place in the resistance where she is still feared for her dangerous power. 
Juliette is aptly named. She's so dramatic. Like, I understand teenagers are like that (even though I never was, of course), but holy balls, get over yourself. I agree with her friend Kenji, who just tells her to shut the shit up and quit being such an insufferable pity party.
Who cares if your touch kills everyone? You gotta own that, gurlfriend! Her powers are wasted on her.
And Oh. My. God. The reveals! Warner, I love you! *fangirl scream*froths from mouth*
---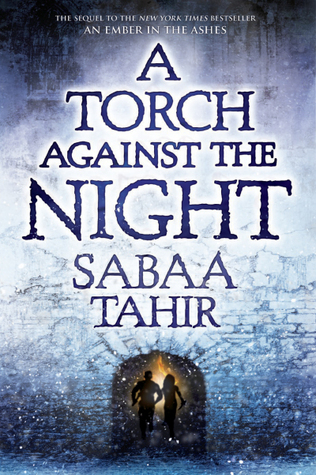 A Torch Against the Night (An Ember in the Ashes #2)–Sabaa Tahir 
Laia and Elias begin their pursuit to rescue Laia's older brother from prison. Meanwhile, the Emperor's new  Blood Shrike, Helene, is ordered to hunt down and kill Elias, her best friend and the boy she loves. 
I read this in only a few hours–just as quickly as I devoured the first book. Because my favorite characters tend to be of the male persuasion, it's surprising my favorite in this series is Helene. She starts out as a badass–the only female Mask besides the sadistic Commandant (and Elias's mother)–but as she begins her role as Blood Shrike, she becomes more and more complex. I can't wait to see how much of a broken, tortured soul she becomes in the next book.
---
The Frog Prince – Jenni James
Prince Nolan turns himself into a frog to spy on his betrothed, to see if she is the spoiled princess he thinks she is. 
This is a very short novella that I had downloaded for free. It's marketed as "clean" romance for teens, which means it has teenage characters who have the mental capacity and innocence of a nine-year-old. Nay, I think nine-year-olds have filthier minds. I have no problem with something being "clean," although I think it's silly, but I do have a problem with there being no sort of humor or danger or anything thrilling.
I also have an issue with things just happening. We don't see how he transforms into a frog, but are told that he visits someone who turns him into one. So very telly. Him turning into a frog should be an exciting moment.
I would recommend this to the overly conservative.
---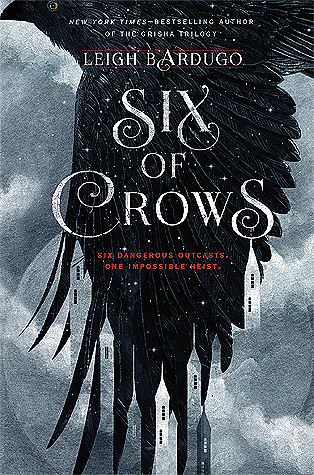 Six of Crows – Leigh Bardugo
Led by criminal prodigy Kaz Brekker, six outcasts attempt to pull off an impossible heist. 
I liked Bardugo's Grisha trilogy, but I LOVE this duology that takes place a few years after the events of the original trilogy. Her writing is stronger and these characters are so much more complex and interesting (probably because they're all criminals), although I still have a special place in my heart for the Darkling and Prince Nikolai.
I am so super stoked for the next book. And if you haven't taken a look at the physical copy of Six of Crows, do so. The edges of its pages are BLACK! And the sequel's pages are RED and they're GORGEOUS!
Can you just hear me SCREAMING at you to read this?
---
The Glass Arrow – Kristen Simmons
Aya lives in a world where women are bought and sold for their breeding rights. Her mother has kept her hidden in the wilds of the mountain, but when Trackers capture Aya, she is groomed to be auctioned. She will stop at nothing to escape and return to her family.
You could say The Glass Arrow is a YA Sci-Fi version of Margaret Atwood's The Handmaid's Tale. And just like Atwood's story, it is truly disturbing. Women are used again and again for breeding until they are cast off. Few make it to middle age. Few even make it past birth because they destroy their girl babies.
I mean, they can't even read. How insanely horrible is that?
Despite all that, there is some humor in the story and the MC, Aya, is such a snarky hellion, you can't help but love her.
I would recommend this to the feminist in you.
---
This month's acquired book boyfriends:
I am one of those fangirls who labels their favorite characters as "book boyfriends." It's bizarre, I know, but these are the boys I swoon over. Note: they tend to be broken and tortured.
Warner – Unravel Me – *still frothing from mouth*
Kaz Brekker – Six of Crows – Anyone who can unflinchingly cut out someone's eye and stuff a handkerchief in their socket is a winner with me. So dreamy.
---
This Month's Haul:
I may have gone a little overboard. But next month I will be attending quite a few author signings. Unfortunately, I haven't read most of those authors' books, so I'm scrambling this month to collect them (Okay, so only 4 of these will be signed, but shaddup).
Did you read anything notable this month?